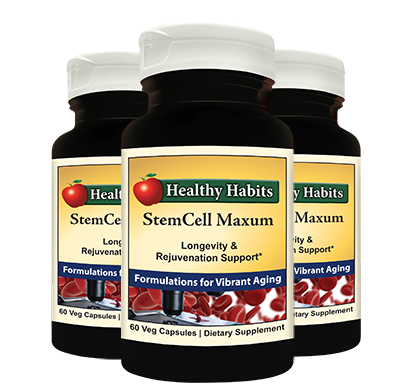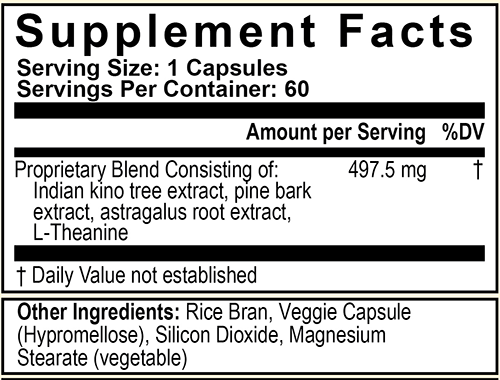 Frequently Asked Questions
Q: I recently purchased Stem Cell Maxum. Do I take the pill on an empty stomach or full stomach or does it matter?
Most herb-based capsules are best when taken on an empty stomach, at least 30 minutes prior to a meal. This is also true of free-form amino acids, including the L-Theanine in this formula. We suggest taking one capsule in the morning and another approximately 12 hours later.
Q: Can 3 pills of StemCell Maxum be taken in a day?
The answer is most likely yes to three capsules/day. However, it may not be appropriate for everyone. For a very small person, under 100 pounds, one capsule/day is adequate. Larger people, over 150 pounds may possibly increase the dose beyond two capsules, but we advise you to let your body be the guide. Two ingredients have a mild blood thinning effect (pine bark extract & astragalus root) and excess may lead to easier bruising or difficulty slowing bleeding after the skin is cut. I suggest you experiment and see how you feel.
Q: I bought your StemCell Maxum; the label says it may thin my blood. I take Plavix and 81mg aspirin...should I be taking this?
Two of the ingredients-- pine bark extract and astragalusroot, are known to provide mild blood thinning effects, with two capsules daily providing the equivalent of an 81 mg baby aspirin. Our greatest concern is for those taking Coumadin (Warfarin therapy), since that is a potentially dangerous medication that could lead to too-thin blood. Patients taking this treatment normally have to visit the doctor weekly/bi-weekly to have their blood checked. We encourage you to ask your health care practitioner if you are at risk of too-thin blood, nose bleeds, easy bruising, etc. and if he/she approves of the addition of this product. Your well-being is our top priority.
Q: I have been taking Stem Cell Maxum twice a day for a long time, and my doctor has just prescribed Coumadin 5 mg. for me. Can I take the two products together?
The effect of taking StemCell Maxum for a long time has already set a new standard level of blood consistency for you. This is the basis your physician is already using. I suggest that you discuss it with your doctor, especially the dosage of Coumadin. If 5mg leads to easy bruising, the prescription can be lowered to be most effective. Bruising, and the inability to clot properly when cut, are key risks to watch for. You may want to inform your physician that you take a supplement containing pine bark extract and astragalus root extract-- and in combination they offer the blood thinning effects of one baby aspirin/day. He/she can then research those ingredients.
Q: Are embryo stem cells used in the production of your Stemcell Maxum?
No, absolutely NOT. Instead, the combination of four herbal ingredients appear to reawaken your own adult stem cells that have been dormant since your birth and get them back to work. This 2015 study was done using the exact StemCell Maxum ingredients: https://www.ncbi.nlm.nih.gov/pmc/articles/PMC4400117/
Q: Does your stem cell product contain blue-green algae?
No, StemCell Maxum does not contain blue-green algae.
Q: I've taken 3 bottles of Stem Cell Maxum. What changes should I have noticed?
Results from StemCell Maxum vary. Some people notice significant effects and often improvements in areas such as joint pain, blood sugar, blood pressure, cold hands and feet, eye and vision health, mental calmness, more physical energy, reduced lipids, etc. For others, the effects can be completely different, such as symptom relief from ailments, and other people notice very little obvious changes, but that does not mean it is not effective.
Q: Just found out my LDL is high (120) is there a supplement to lower that?
Regarding elevated LDL cholesterol-- StemCell Maxum has been shown to reduce LDL levels, mostly by controlling blood sugar and insulin levels. For the majority of people with high LDL, which is frequently accompanied by high triglycerides and low HDL, the issue is one of wrong carbs/excess carbs (dietary carbohydrates). The liver responds to certain types of carb intake by creating more cholesterol to protect blood vessels from damage. Unfortunately, this becomes a vicious cycle. Metabolic Syndrome is the real issue.
Q: How many bottles should I order?
If you're looking to experience a significant change, we recommend you invest in our discounted 3-bottle option. If however you want to experience the dramatic change that StemCell Maxum can provide, we recommend our even further discounted 6-bottle option. These recommendations will ensure you have an ample supply of StemCell Maxum on hand to achieve your goal without the need to re-order often. You can always return what you don't use, if you achieve results even faster and these packages will allow you to take advantage of our lowest possible prices today.
Q: What are the ingredients and amounts used in the formula?
Refer to StemCell Maxum label.
Q: What is this and how should I take it?
Take 12 hours apart.
Q: How long do I have to use this product before I see results?
We expect you to see noticeable, results within 30 days and more profound results with prolonged, continued use. Moreover, many users report results within just days of beginning with StemCell Maxum.
Q: Are there any allergy concerns with this product?
Like all of our products, StemCell Maxum is made with natural ingredients with our ingredients listed on the product label. However, if you have any concerns you should consult your physicians before using or taking any of our products.
Q: If I have a medical condition, can I take this product?
StemCell Maxum is made with natural ingredients and is considered safe and extremely effective for nearly everyone. However, if you take prescription medications or have a medical condition, we recommend that you show a bottle of StemCell Maxum to your physician and/or pharmacist for proper approval. If however, for any reason, during this 365 day period you are unsatisfied with your purchase, just give us a call and we will be pleased to help you take advantage of our industry leading 365 Day Satisfaction Guarantee.
Q: How will this product be shipped to me and how quickly?
We will ship your order directly to your home or office using a premium carrier such as FedEx or USPS, and you can expect your order within 5 to 7 business days.
Q: Will anything else be sent to me, or billed to me, after I order?
No. This is NOT an auto-ship program. You only get 1 shipment with what you order today. Unless you have selected the "Subscribe & Save" autoship option.
Q: Is it safe to order online from your web site?
Yes. We use a 256-bit secure ordering server so you are protected the same as if you were ordering from Amazon.com or any other trusted Web site.
Q: How long will today's special pricing be available?
We are unable to guarantee today's pricing beyond today. Our pricing often changes due to the constantly changing prices of the high-quality, exotic ingredients used in StemCell Maxum as well as supply and demand. To guarantee our lowest pricing, be sure to secure your order today.
Q: What if this product doesn't work for me?
While StemCell Maxum was designed to be effective based on the extensive research we completed, we do recognize that not all products work for all people. As such, we offer you a full 365 days to try the product and evaluate its effectiveness for yourself. We suggest you take at least 90 days to evaluate any product for effectiveness so that the ingredients have a chance to get into your cells and make a difference. If however, for any reason, during this 365 day period you are unsatisfied with your purchase, just give us a call and we will be pleased to help you take advantage of our industry leading 365 Day Satisfaction Guarantee.
Q: Is it OK to keep taking this product even after achieving my goals?
StemCell Maxum is an all-natural formula that is completely safe for daily use. You may safely and confidently take StemCell Maxum as long as needed to achieve your goal.
Q: If I am diabetic (type I or type II) should I use this product?
While the active ingredients in StemCell Maxum are of premium quality, StemCell Maxum does not treat, cure, or prevent any disease, such as diabetes. If you are on medication, you should continue to take your medication under the direction of your physician and must consult with your physician before using StemCell Maxum. That said, don't worry as you're always protected by our 365 Day "No Rush" Satisfaction Guarantee. Shop with Healthy Habits and if for any reason you are not completely satisfied, simply call us at 800-604-6766 and we'll make things right for you - guaranteed!