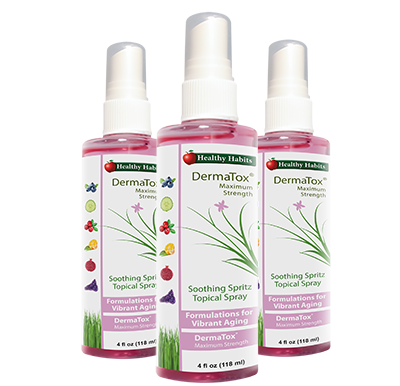 Frequently Asked Questions
Q: Can Dermatox® liquid be used on infants' rashes on face/body and diaper rash? If so from what age?
DermaTox is safe & effective for use on humans and animals at any age. We've heard many testimonials about diaper rash and virtually any other type of skin issue that may arise. Plus, due to the ingredient "salicylic acid", this product eases discomfort quickly. The DermaTox spray should be applied first, then the Ointment can be applied (as needed) after it dries. Warm it between your hands to soften it to make the Ointment easy to apply.
Q: Would the Dermatox® work on cradle cap for a baby/infant?
DermaTox® is one of the safest skin care products for any age. DermaTox is reported to be very helpful for issues that affect babies and children such as cradle cap, diaper rash, rug rash, scrapes, etc. There are no risks or side effects at all-- and it delivers relief almost as fast as mommy's kiss. If breast milk is available, you can also rub a few drops into the affected area until the problem goes away. Breast milk and DermaTox work well together topically.
Q: How do I use DermaTox? Morning -night - both? Before or after moisturizer, etc.?
Ultimately, it's up to you, but I spray it on after cleansing as a toner (pH of 3.1), and then while it's still damp, I apply Rejuv Creme with Plant Stem Cells. Many customers have informed me they spray their entire body after drying off after a shower or bath. Of course, spray it on burns, bug bites, boo-boos, and places that are inflamed and painful. It's phenomenal and versatile! It's also safe for pets
Q: Do you have any testimonies about 'crepey' skin using DermaTox® (spray or ointment)?
I have read the vast majority of our testimonials for this product and I haven't seen any discussing this issue. "Crepey" skin is caused by a loss of collagen and elastin in the skin, due to exposure to UVA rays from the sun and many other types of damage, such as long term and repetitive exposure to pollutants such as cigarette smoke, alcohol, sugar, unhealthy fats, etc. Collagen precursor nutrients, such as Ionic Silica Collagen Booster, along with adequate dietary vitamin C, work together to replace lost collagen. DermaTox® will assist your skin in holding moisture which is vital for healthy skin.
Q: Can I put drops of Dermatox® in the ear canal in my ears to help with ringing in my ears?
I have no reason to advise you against putting DermaTox® into your ears. I have heard from other customers that they have done this, but personally, I have yet to have anyone tell me it resolved their tinnitus. I have also read the testimonial about this, and it is likely true for that customer.
Q: What is the pH of Derma Tox® spray?
The pH is 3.1
Q: Is it okay to ingest DermaTox®?
Laws are strict around labelling and recommendations for natural products. Since DermaTox® is NOT a supplement, we cannot legally recommend ingestion. I do not recommend ingestion of DermaTox® anyway. There are far better options with similar/much better effects, such as whole leaf aloe juice. Aloe Relief: https://healthyhabits.com/product-info.php?name=aloerelief
If you are seeking the 74 trace minerals in DermaTox® -- I suggest MINEREX®. The potency of trace minerals in DermaTox® doesn't come close to MINEREX®. Decades ago, Dr Martin discovered that the Sentramins mineral blend in our MINEREX® was by far the most effective form he ever used for helping his clients to balance their body's mineral profile. https://healthyhabits.com/productinfo.php?name=minerex
Q: How many bottles should I order?
If you're looking to experience a significant change, we recommend you invest in our discounted 3-bottle option. If however you want to experience the dramatic change that DermaTox® - 4 oz Spray can provide, we recommend our even further discounted 6-bottle option. These recommendations will ensure you have an ample supply of DermaTox® - 4 oz Spray on hand to achieve your goal without the need to re-order often. You can always return what you don't use, if you achieve results even faster and these packages will allow you to take advantage of our lowest possible prices today.
Q: What are the ingredients and amounts used in the formula?
Refer to DermaTox® - 4 oz Spray label.
Q: How long do I have to use this product before I see results?
We expect you to see noticeable, results within 30 days and more profound results with prolonged, continued use. Moreover, many users report results within just days of beginning with DermaTox® - 4 oz Spray.
Q: Are there any allergy concerns with this product?
Like all of our products, DermaTox® - 4 oz Spray is made with natural ingredients with our ingredients listed on the product label. However, if you have any concerns you should consult your physicians before using or taking any of our products.
Q: If I have a medical condition, can I take this product?
DermaTox® - 4 oz Spray is made with natural ingredients and is considered safe and extremely effective for nearly everyone. However, if you take prescription medications or have a medical condition, we recommend that you show a bottle of DermaTox® - 4 oz Spray to your physician and/or pharmacist for proper approval. If however, for any reason, during this 365 day period you are unsatisfied with your purchase, just give us a call and we will be pleased to help you take advantage of our industry leading 365 Day Satisfaction Guarantee.
Q: How will this product be shipped to me and how quickly?
We will ship your order directly to your home or office using a premium carrier such as FedEx or USPS, and you can expect your order within 5 to 7 business days.
Q: Will anything else be sent to me, or billed to me, after I order?
No. This is NOT an auto-ship program. You only get 1 shipment with what you order today. Unless you have selected the "Subscribe & Save" autoship option.
Q: Is it safe to order online from your web site?
Yes. We use a 256-bit secure ordering server so you are protected the same as if you were ordering from Amazon.com or any other trusted Web site.
Q: How long will today's special pricing be available?
We are unable to guarantee today's pricing beyond today. Our pricing often changes due to the constantly changing prices of the high-quality, exotic ingredients used in DermaTox® - 4 oz Spray as well as supply and demand. To guarantee our lowest pricing, be sure to secure your order today.
Q: What if this product doesn't work for me?
While DermaTox® - 4 oz Spray was designed to be effective based on the extensive research we completed, we do recognize that not all products work for all people. As such, we offer you a full 365 days to try the product and evaluate its effectiveness for yourself. We suggest you take at least 90 days to evaluate any product for effectiveness so that the ingredients have a chance to get into your cells and make a difference. If however, for any reason, during this 365 day period you are unsatisfied with your purchase, just give us a call and we will be pleased to help you take advantage of our industry leading 365 Day Satisfaction Guarantee.
Q: Is it OK to keep taking this product even after achieving my goals?
DermaTox® - 4 oz Spray is an all-natural formula that is completely safe for daily use. You may safely and confidently take DermaTox® - 4 oz Spray as long as needed to achieve your goal.
Q: If I am diabetic (type I or type II) should I use this product?
While the active ingredients in DermaTox® - 4 oz Spray are of premium quality, DermaTox® - 4 oz Spray does not treat, cure, or prevent any disease, such as diabetes. If you are on medication, you should continue to take your medication under the direction of your physician and must consult with your physician before using DermaTox® - 4 oz Spray. That said, don't worry as you're always protected by our 365 Day "No Rush" Satisfaction Guarantee. Shop with Healthy Habits and if for any reason you are not completely satisfied, simply call us at 800-604-6766 and we'll make things right for you - guaranteed!